The Schlage HandPunch 1000-E is more than just a time-and-attendance tracking device. It's a comprehensive access control system for companies with 50 or fewer employees per terminal that enhances your security, while ensuring accurate records and saving money.
The HandPunch works by identifying a user's hand geometry : The unique size and shape of their hand. This means your employees will no longer need to carry cards or keys. The costs and risk associated with credentials that can be lost, stolen or duplicated without authorization is also eliminated. HandPunch also eliminates time fraud by making it virtually impossible to "buddy punch." The result is less cost of ownership and more accuracy, productivity and profitability for your company.
Affordable networkable solution : connect the HandPunch to your existing time and attendance application and network infrastructure with the built-in Ethernet connection.
Accurate verification in any conditions : Since HandPunch identifies users by hand geometry instead of a fingerprint, identification will still be accurate even if the user's hand is wet, injured or dirty.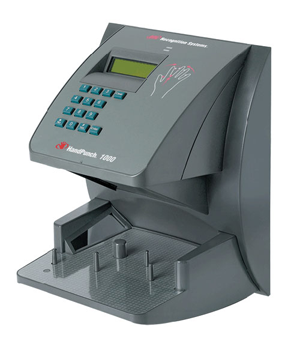 Grows with your needs : support up to 50 users or easily upgrade to support up to 512 users without removing the unit from the wall.
Programmable for your needs : ten user-definable data management options let you collect and/or display data as employees punch in, such as department transfers, tips collected, job codes or pay codes. The HandPunch may also be used to allow employees to review punches, job schedules, vacation time accumulated, hours worked and more.
Antimicrobial protection : every HandPunch has a built-in antimicrobial coating on the surface of the platen. This finish helps inhibit the growth of bacteria, mold and fungi and lasts for the life of the device.
Hand outline : every HandPunch comes standard with a blue hand outline printed on the platen. This ensures accurate hand placement for verification, as well as quick, easy enrollment.